Mar 17, 2023 Dear Parent/Guardian, CMS 8th grade students will be visiting Whitewater Career Center next Friday, March 24th, during the school day. Diamond students will be at WCC in the morning (9:00-10:50 am) and Windjammer students will be there in the afternoon (12:15-2:05 pm). Students will be accompanied by their teachers. Whitewater Career Center provides career and technical education for high school juniors and seniors from six local school corporations and is located on Connersville High School campus. WCC offers 13 career programs for high school students. The 8th grade students will have an opportunity to learn about each of the 13 programs during their tour. These tours are taken to give students a chance to look ahead to their high school career and the options available. A tour of the CHS campus will take place later this spring. If you do not wish your student to attend the WCC field trip, please contact CMS student Services at 825-1139 ext. 26329 to let us know. Thank you! Victoria Smejkal School Counselor

At Connersville Middle School, we believe that regular student attendance at school is vital for their educational success. In an effort to assist us in our attendance efforts, we have partnered with the services of School Messenger to send out notifications to parents and guardians regarding their student's daily attendance at school. Beginning sometime this week, if your student is absent from school, and the school office has not received a phone call excusing the absence, you will receive an automated phone call informing you of your student's absence. As a reminder, please make every effort to call the school office whenever your student needs to be absent from school. If you have any questions, please reach out to the school office at 825-1139. Thank you for your assistance in this matter.

The Food Pantry will now be open every third and fourth Thursday at Little Spartans Preschool. There has been a delivery date change for Gleaners which affects our handouts.

CMS GOLF!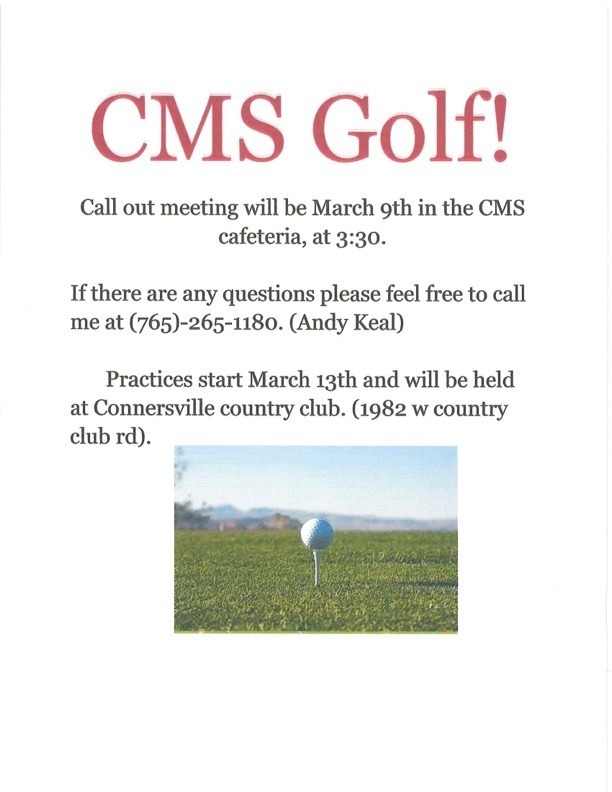 ORDER YOUR 2022-2023 CMS YEAR BOOK TODAY ON ybpay.com. Order Deadline: 03/24/2023; Yearbook ID Code: 2051723. School Name: Connersville Middle School.

The week of 02/20/2023 is FFA Dress Up Week at CMS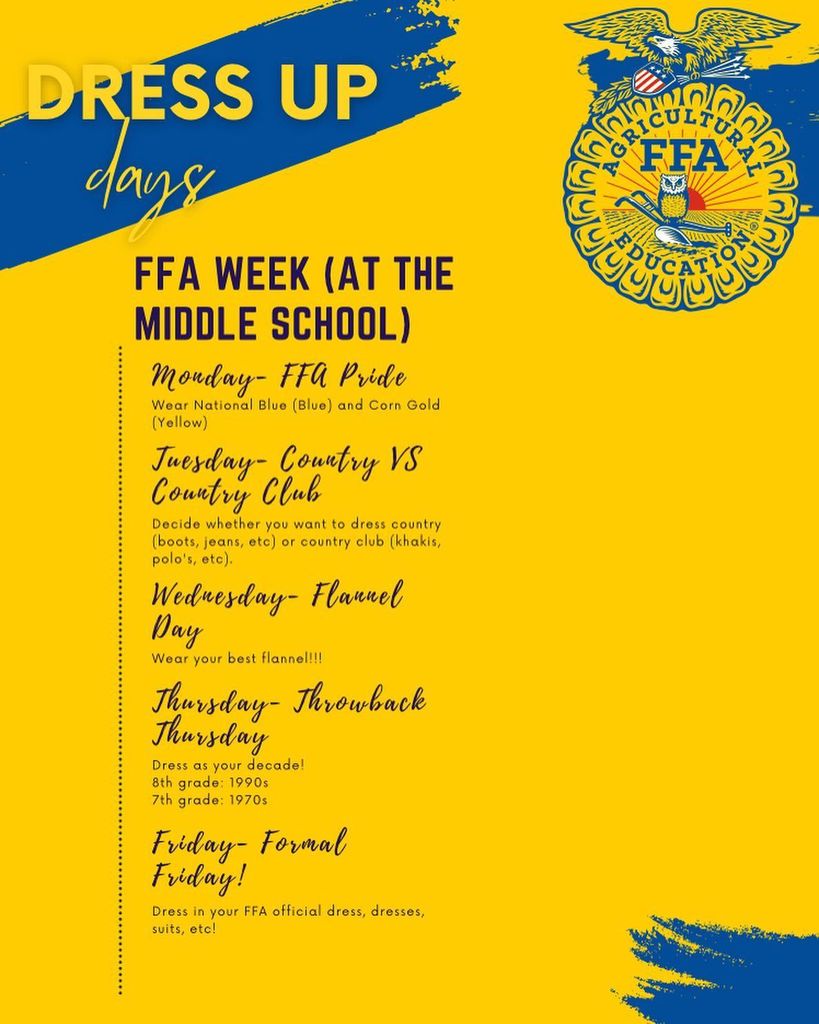 CMS TRACK AND FIELD: ALL FCSC 6TH-8TH GRADERS WELCOME! FEBRUARY 13 - CONDITIONING STARTS FOR ANY ATHLETES NOT IN WINTER SPORTS. (BRING INDOOR AND OUTDOOR CLOTHES) MARCH 6- OFFICIAL PRACTICE STARTS *MUST HAVE PHYSICAL IN FINAL FORMS BEFORE 3/6 TO PRACTICE** GOODLE CLASSROOM CODE: fzgoopl

SPARTAN FOOTBALL SPEED CAMP; LOCATION: Spartan Bowl DATE: March 20th - 23rd; K-4th GRADE: 5-6pm; 5th-8th GRADE: 6:30pm to 8pm COST: $20.00 INCLUDES FREE T-SHIRT

2023-2024 CMS CHEER TRYOUTS CLINIC DAYS: APRIL 12- APRIL 14 FROM 5:30 PM TO 7PM TRYOUTS: APRIL 15 FROM 8AM -12PM* LOCATION: CMS ARENA Participants must attend ALL clinic days to be eligible to try out. Wear cool, comfortable clothing and tennis shoes. NO: jewelry, flip-flops, hey dudes etc. PARENTS WILL NEED TO DROP STUDENTS OFF AND RETURN BY 7PM. Any questions, reach out to Coach Emily @ 765-561-9342.

CURRENT 7TH GRADERS: THE DEADLINE TO ENROLL FOR 8TH GRADE IS FRIDAY, FEBRUARY 24, 2023! SEE STUDENT SERVICES WITH ANY QUESTIONS!

Fayette County Schools WILL be in session on Monday, February 20, 2023 to make up for the snow day on January 25, 2023.

There will be a food pantry handout tomorrow, Thursday, February 16, at Little Spartan Preschool from 3:30-5:00 p.m.

Kindergarten Round-Up!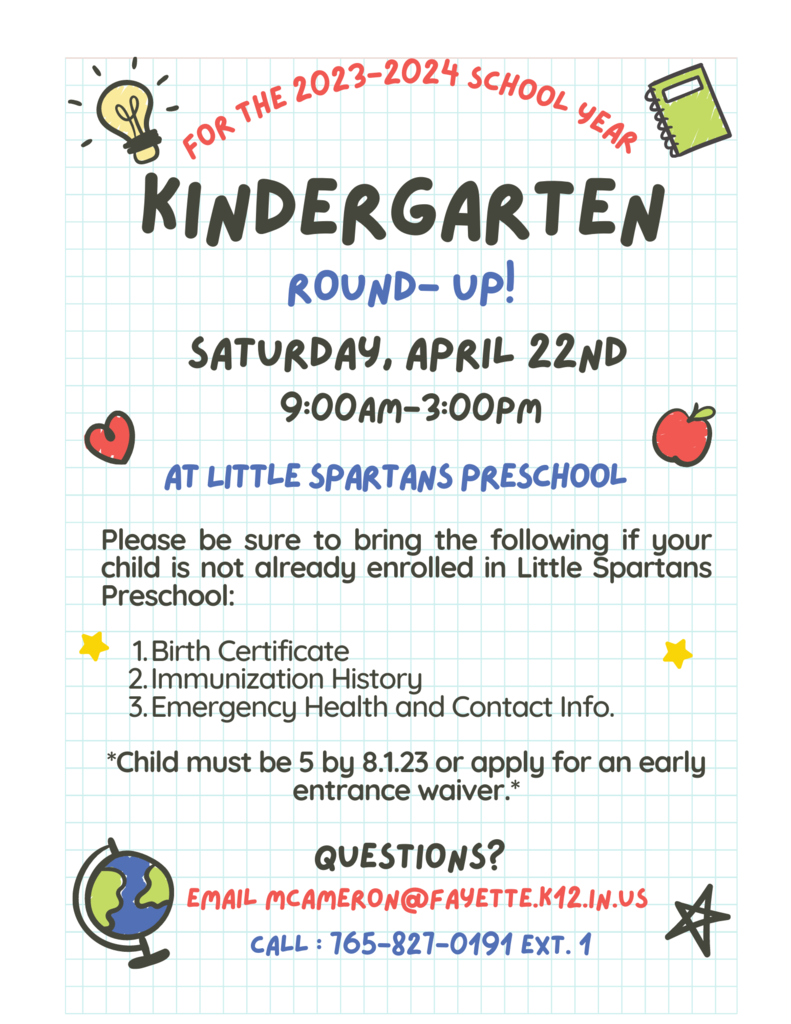 Congratulations to CMS's very own SRO Josh Sparks on being named Fayette County Sheriff Deputy of the Year!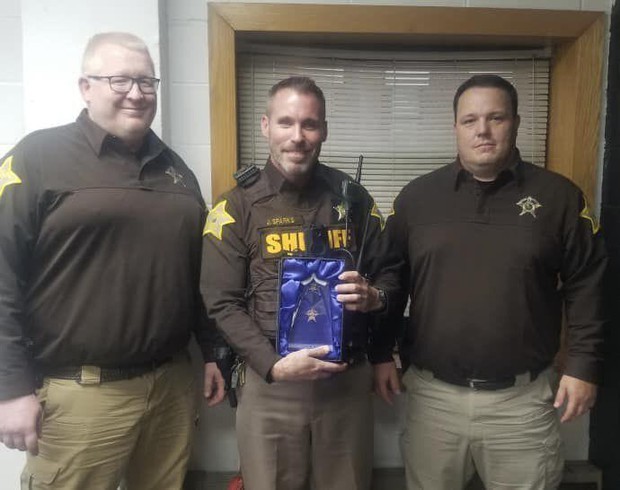 FCSC: 2 HOUR DELAY: 01/12/2023

ATTN: CMS STUDENTS, PARENTS & GUARDIANS: IT'S TIME TO ORDER YOUR 2022-2023 YEARBOOK! FORMS ARE AVAILABLE IN THE FRONT OFFICE. ORDER DEADLINE IS JANUARY 4, 2023. YEARBOOK ID CODE FOR CMS IS: 2051723.

Christmas Spirit Week @ CMS.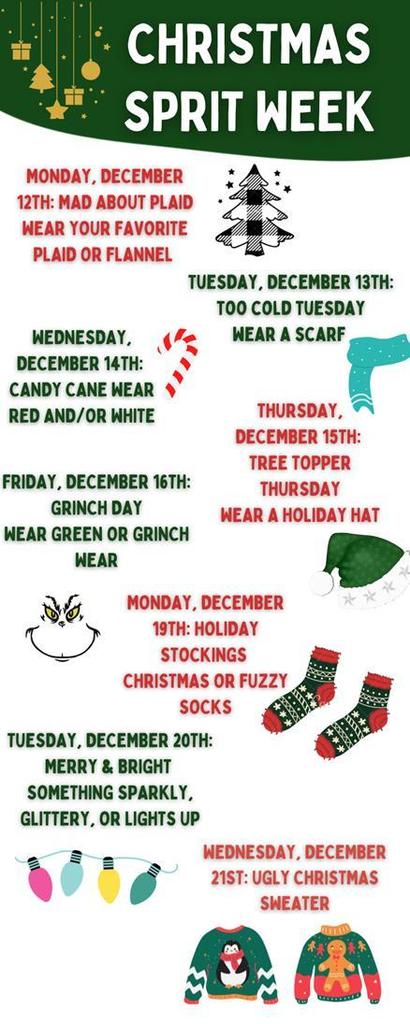 CMS GIRLS BASKETBALL TRYOUTS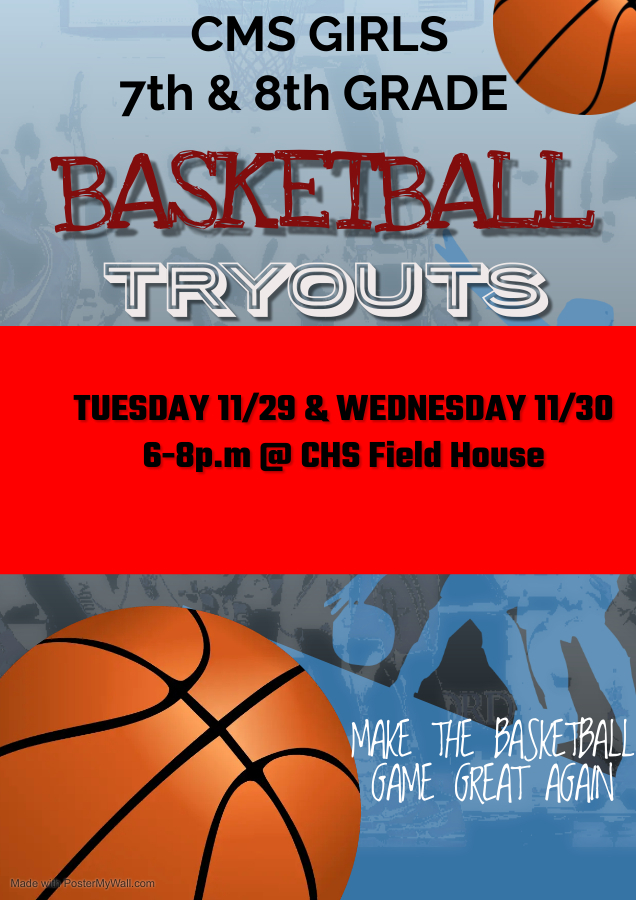 CMS BAND FALL CONCERT: CMS AUDITORIUM: THURSDAY, NOVEMBER 17, 2022. DOORS OPEN AT 6:30 P.M. CONCERT STARTS AT 7:00 P.M. $5.00 DONATION AT THE DOOR.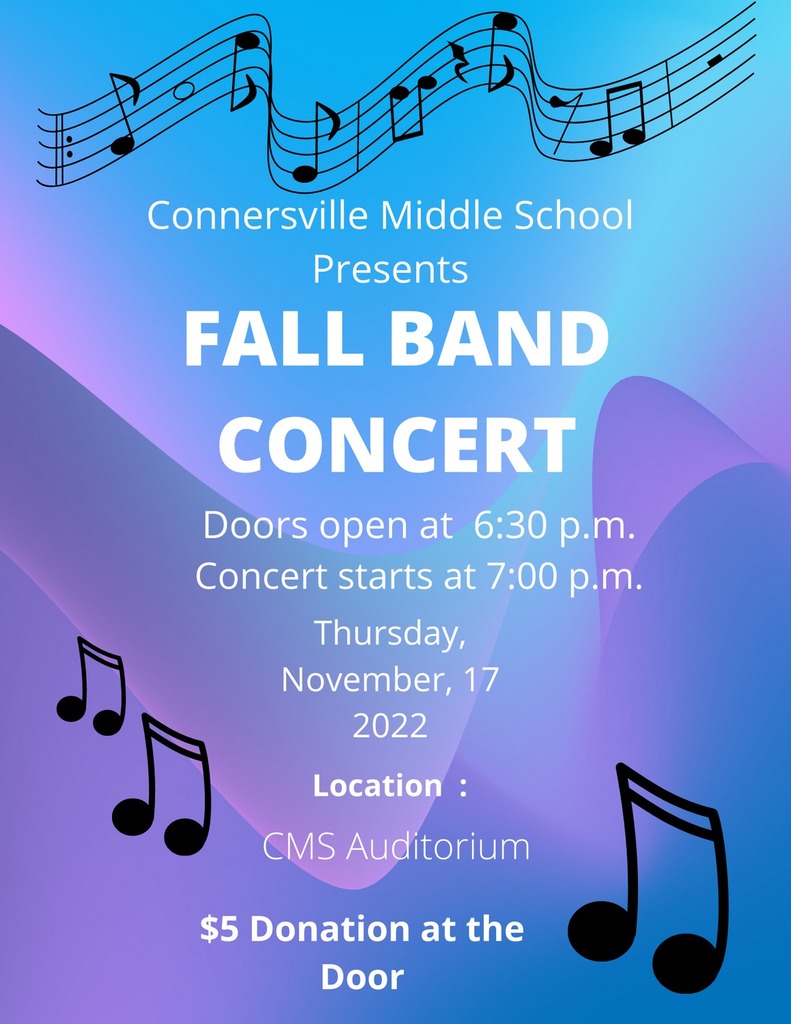 Fayette County Schools will be dismissing at regular times today. We are working closely with our law enforcement and after an update with the Sheriff, he will be working with local law enforcement to have police presence at each building during dismissal.