7th & 8th Grade Boys Basketball Open Gym: CMS Arena, Saturday, 9/24/2022 from 11:00 a.m. to 12:30 p.m.

Weather Delays & Closings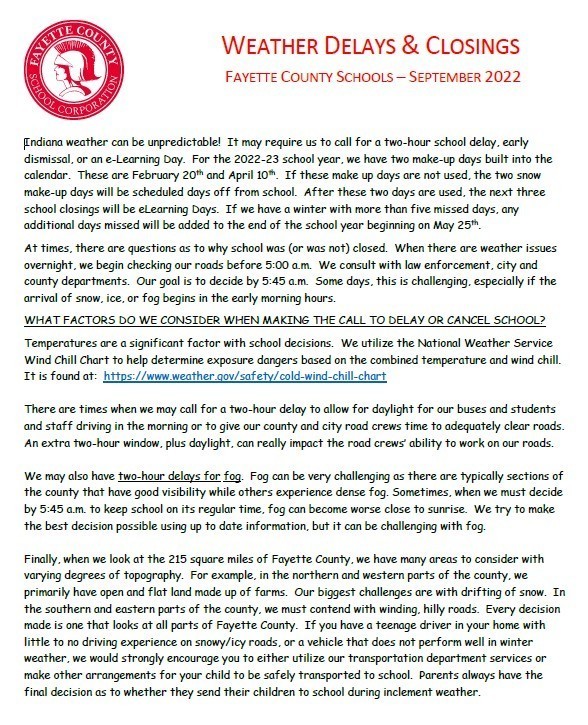 MOTHER/DAUGHTER FUNDRAISER MATCH: Come out and enjoy our Annual Mother/Daughter Fundraiser Match for CMS Volleyball. October 3, 2022 @ 6:00 p.m. CMS Arena.

At tonight's FCSC Board meeting, Trent Liggett was approved as the CHS Interim Principal for the 2022-23 school year. Congratulations to Mr. Liggett as he makes this transition effective Wednesday, September 14th.
PARENTS & GUARDIANS WITH VERIZON WIRELESS SERVICE MAY EXPERIENCE CALL FAILURES TODAY 8/26/2022 WHEN ATTEMPTING TO REACH CMS. OUR TECHNOLOGY TEAM IS AWARE OF THESE PROBLEMS. THANK YOU.
ATTENTION: CMS Students, Parents, Guardians: Picture day for CMS students will be September 13, 2022! Mark your calendars! Look for more information coming your way soon!
STUDENTS, GUARDIANS AND PARENTS: Interested in playing on the CMS basketball team? There will be an open gym in the Arena for anyone interested in Middle School Boys Basketball on August 18, 2022 from 6:00 p.m. to 8:00 p.m.
ATTENTION: CMS, STUDENTS, PARENTS AND GUARDIANS: CMS will be hosting an open house, Wednesday, August 3, 2022 from 5:00 p.m. to 7:00 p.m. Come tour the building, meet teachers and kick off a great 2022 - 2023 school year!
PARENTS AND GUARDIANS OF CMS STUDENTS: SOME OF YOU HAVE NOT INDICATED YOUR STUDENT'S TRANSPORTATION NEEDS IN POWER SCHOOL. PLEASE DO THIS AS SOON AS POSSIBLE. IT WILL BE A FIVE (5) DAY WAIT FOR STUDENTS THAT DO NOT HAVE THEIR TRANSPORTATION NEEDS IN PowerSchool by FRIDAY, JULY 29th.
Parents and Guardians of CMS students, If you did not get the opportunity to get your CMS student registered for school by using the Parent PowerSchool website, please do so as soon as possible. If you would like to tour the building to locate classes with your student, CMS will be open from 8:30am-3:30pm on Monday, Tuesday, and Wednesday (August 1, 2, & 3). Additionally, if evening hours would be more convenient for you, we will have the building open for touring on Wednesday evening only (August 3rd) from 5:00pm-7:00pm. If you have any questions, please contact the CMS office at 825-1139.
REGISTRATION INFORMATION: Parents and guardians of CMS students, Please be reminded that online registration for middle school students begins Tuesday, July 26, and continues through Wednesday, July 27. Please see the online registration instructions below to complete the process: To complete the online registration: 1) Use a computer or Chromebook (you must use a browser and not the PowerSchool app). 2) Go to
https://powerschool.fayette.k12.in.us/
3) If the page doesn't load or it isn't available, refresh the page. 4) Login to PowerSchool using your parent login/password information (student login information does not provide access to the Parent Portal registration forms). a. If you forget your username or password, click on the "Forgot Username or Password?" link on the login page. An email will be sent to allow you to reset your information. b. If you are still unable to login, please contact the school where your child will be attending. 5) Click on "Forms" in the left column. 6) On Form A (Address Verification and Transportation) review your child's address. If the address it is not correct, you will need to contact the school office and provide them the new/correct address. 7) On Form B (Contacts). Review your contact information. If you want to make changes, click on the pencil. To remove a contact, use the X. To add a contact, click on "Add." When you are done, click on "Submit." 8) Click on "OK" and wait for the next form to automatically load. 9) Complete Form C and submit. 10) Continue until all forms are completed. 11) There is a link on Form Z (Finished) if you would like to apply for State Assistance for Textbook Fees and/or Free and Reduced Lunch. 12) If you have another child in the district, you can click on their name in the upper left corner beneath the PowerSchool logo and go back to #5 to repeat the process for the next child/children. 13) Once all your forms are complete, click on "Sign Out" (upper right corner). 14) Textbook rental fees will not be collected at registration. Fee information will be mailed out at a later point in time. If you do not have access to the internet, you may come to the CMS Cafeteria and complete the registration process in-person on Tuesday, July 26 or Wednesday, July 27 from 8:30am-3:30pm. If you choose this option, please enter the building through the Spartan Bowl doors on Grand Avenue (located on the northwest section of the building). If your student is new to Fayette County Schools, you will need to make an appointment to enroll your student before registering. If so, please contact the school at 825-1139 to set up an appointment. CMS will be open from 8:30am-3:30pm on July 26 and July 27 for those students and parents who might wish to tour the building and/or to locate their classrooms. The first day of school is Monday August 8. The school day begins at 8:20am and ends at 3:20pm. If you have not downloaded the Fayette County School Corporation app on your phone, please do so because you can keep up with CMS announcements and other related events right on your phone. Additionally, feel free to check out the CMS website (cms.fayette.k12.in.us) for similar events and updates. If you have any questions about the upcoming school year, feel free to contact the school office at 825-1139.

Summer Meal Locations May 31st - July 29th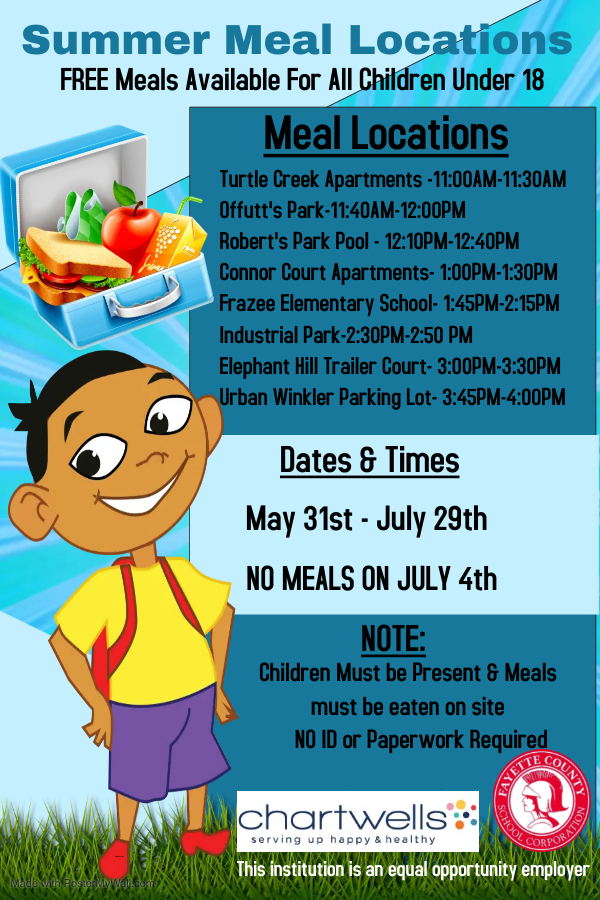 Clothes Giveaway May 5th, 2022 5-7pm Little Spartans Preschool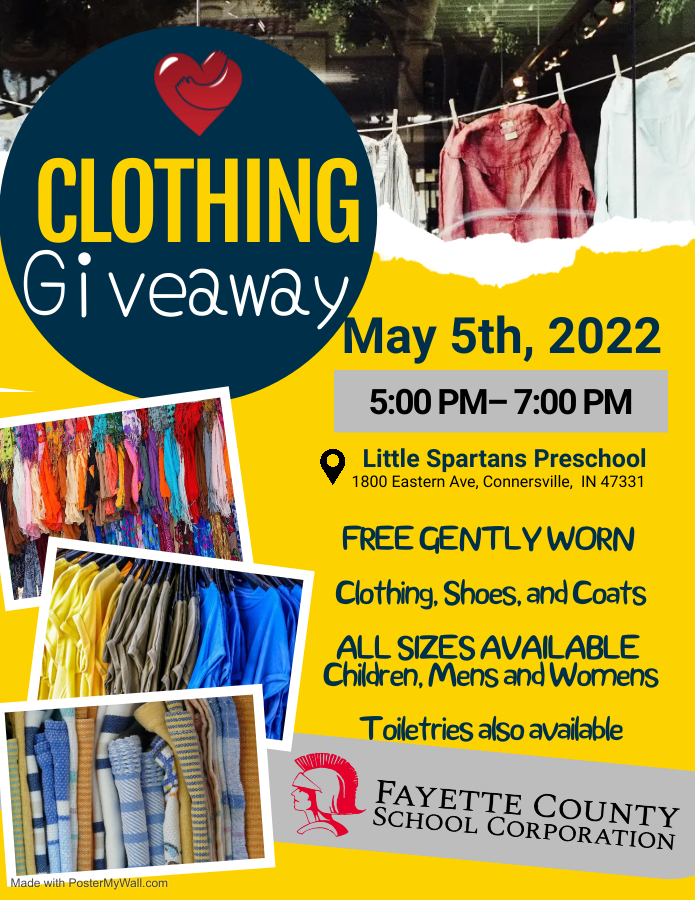 Gleaners Mobile Pantry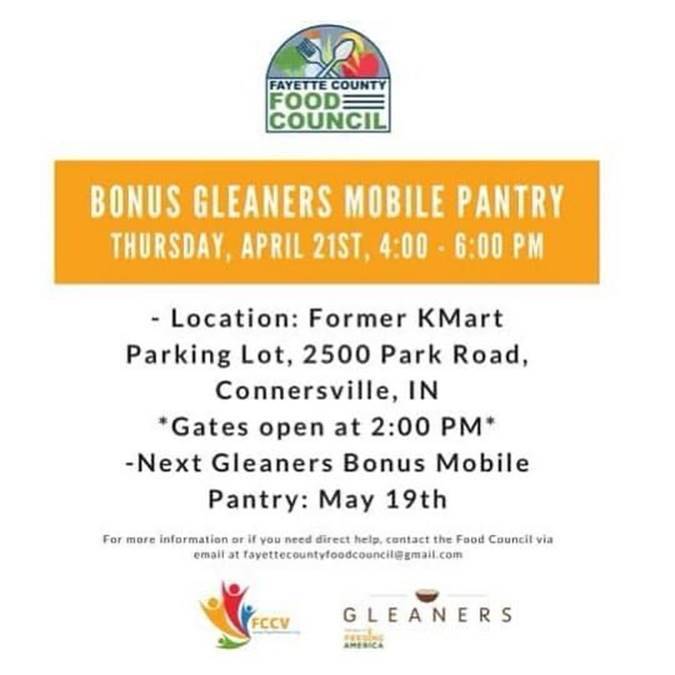 Based on the new guidance from the CDC and subsequent follow up from the Indiana Department of Education, Fayette County School Corporation will follow new guidelines as they relate to mask requirements on school buses. Effective today, February 26, 2022, masks will NOT be required on school buses. If any students or staff members wish to wear masks on buses, they are welcome to do so.

Food Handout at Little Spartans Preschool February 24th 3:30-5pm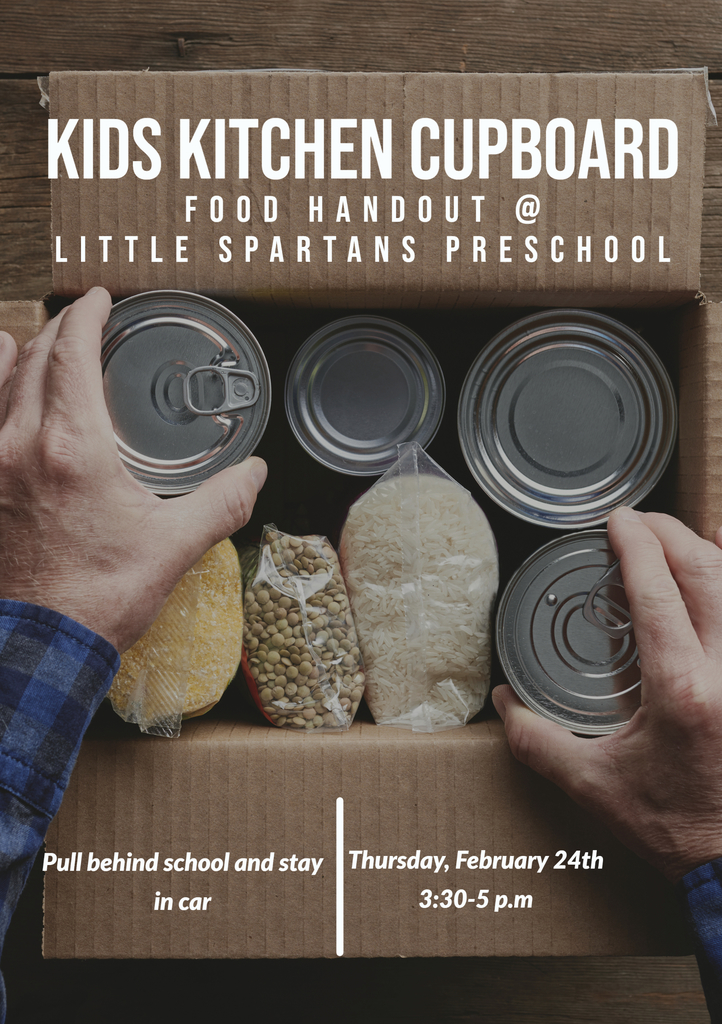 Fayette County Schools will be closed on Friday, February 4th due to winter weather conditions. We will make this day up using our 2nd built-in snow day on April 18th. Enjoy your Snow Day and stay safe!
FCSC Students, Staff, and Families, SNOW DAY on February 3rd!!!! With the high confidence in a strong winter storm arriving tonight, we are closing Fayette County Schools tomorrow (Thursday, Feb. 3rd). All buildings will be closed on Thursday. As we have two built-in snow make up days in our calendar, tomorrow's closure will be made up on Monday, February 21st. I hope that our students, staff and families have a safe and fun snow day! We appreciate our maintenance and custodial team members who will be working to clear our school grounds during the next the next two days! Scott Collins Superintendent Fayette County School Corporation
Dear FCSC Families, I hope that you have had an enjoyable and safe holiday season. As we welcome our students and staff back to school tomorrow, January 5th, I wanted to provide some updated information as we continue to deal with Covid-19. The Indiana Department of Health released new quarantine guidance for schools that reduces the required quarantine time periods. The new guidelines are located on our district website -
www.fayette.k12.in.us
. We will continue under the mask/face covering requirement at this time which allows students and staff identified through "contact-tracing" to remain in school without a mandatory quarantine period. In addition, the federal requirement for masks on buses is in place until at least March 18th. We will continue to closely monitor our county's status each day as students return to school. I appreciate your understanding and continued cooperation. Scott Collins Superintendent Fayette County School Corporation