Congratulations to CMS's very own SRO Josh Sparks on being named Fayette County Sheriff Deputy of the Year!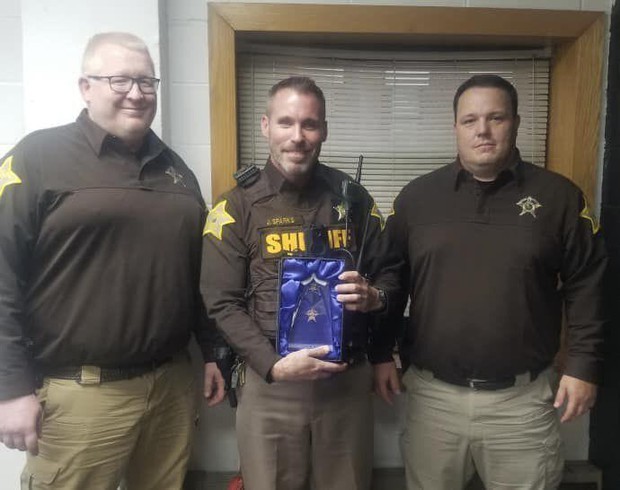 FCSC: 2 HOUR DELAY: 01/12/2023

ATTN: CMS STUDENTS, PARENTS & GUARDIANS: IT'S TIME TO ORDER YOUR 2022-2023 YEARBOOK! FORMS ARE AVAILABLE IN THE FRONT OFFICE. ORDER DEADLINE IS JANUARY 4, 2023. YEARBOOK ID CODE FOR CMS IS: 2051723.

Christmas Spirit Week @ CMS.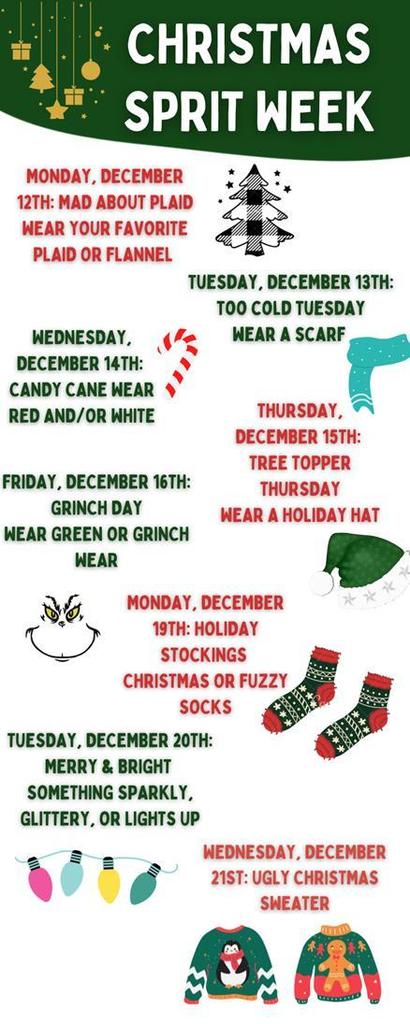 CMS GIRLS BASKETBALL TRYOUTS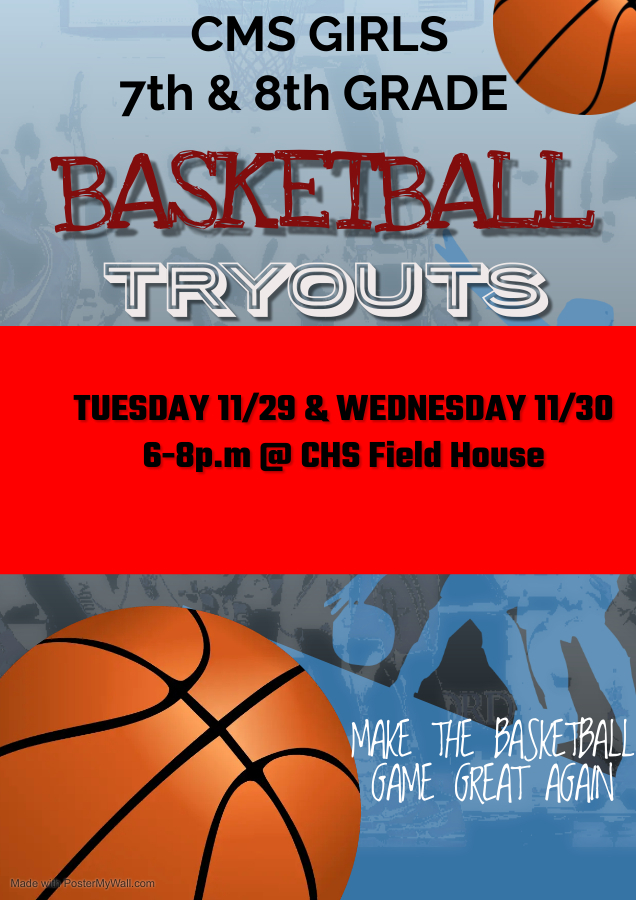 CMS BAND FALL CONCERT: CMS AUDITORIUM: THURSDAY, NOVEMBER 17, 2022. DOORS OPEN AT 6:30 P.M. CONCERT STARTS AT 7:00 P.M. $5.00 DONATION AT THE DOOR.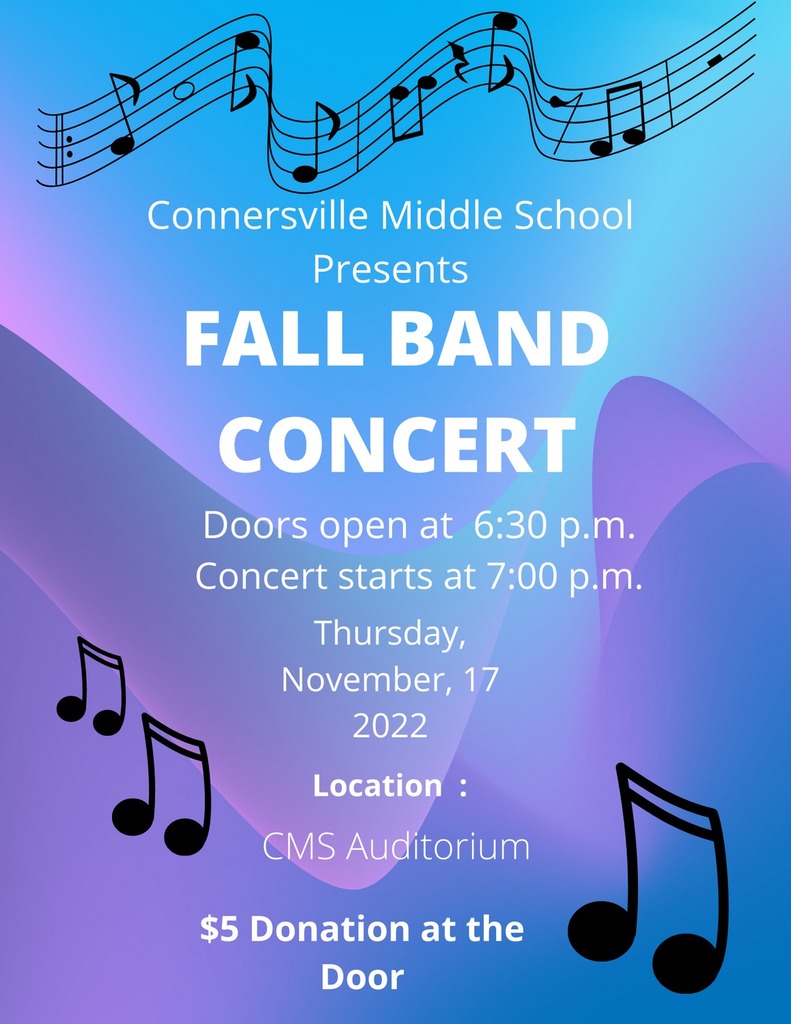 Fayette County Schools will be dismissing at regular times today. We are working closely with our law enforcement and after an update with the Sheriff, he will be working with local law enforcement to have police presence at each building during dismissal.

Fayette County Schools are currently on a lockout which means all exterior doors are locked and there are no students outside for recess. We will continue with the lockout as we work with law enforcement. No threat has been made to our buildings. However, law enforcement is in pursuit of a person of interest in our county whose whereabouts are currently unknown.

ATTN STUDENTS, PARENTS AND GUARDIANS OF CMS: TUESDAY, NOVEMBER 8, 2022 IS PICTURE RE-TAKE DAY! FORMS ARE AVAILABLE IN THE FRONT OFFICE.

OCTOBER 12, 2022: NO SCHOOL FOR STUDENTS

COLLEGE GO WEEK: 9/26/2022 thru 9/30/2022. Monday is wear pajama pants day. Tuesday is "dress for success" day. Wednesday is Wear animal print or camouflage day. Thursday is college gear day- wear your favorite college attire. Friday is red & white day.

7th & 8th Grade Boys Basketball Open Gym: CMS Arena, Saturday, 9/24/2022 from 11:00 a.m. to 12:30 p.m.

Weather Delays & Closings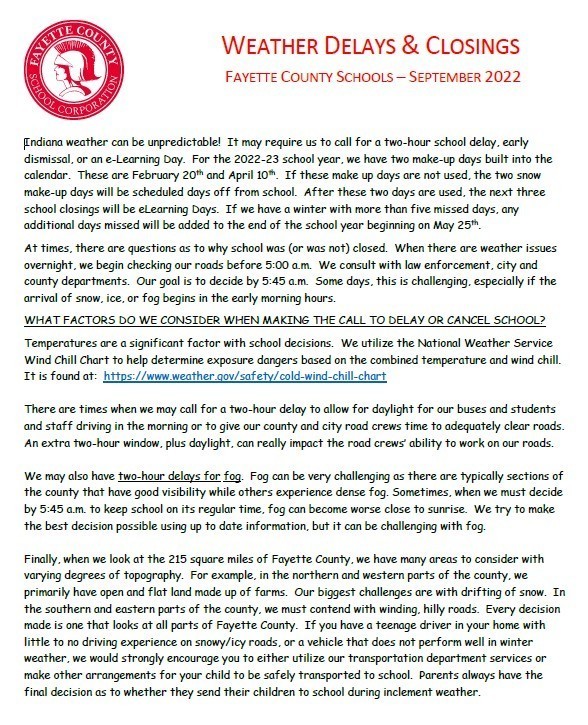 MOTHER/DAUGHTER FUNDRAISER MATCH: Come out and enjoy our Annual Mother/Daughter Fundraiser Match for CMS Volleyball. October 3, 2022 @ 6:00 p.m. CMS Arena.

At tonight's FCSC Board meeting, Trent Liggett was approved as the CHS Interim Principal for the 2022-23 school year. Congratulations to Mr. Liggett as he makes this transition effective Wednesday, September 14th.

PARENTS & GUARDIANS WITH VERIZON WIRELESS SERVICE MAY EXPERIENCE CALL FAILURES TODAY 8/26/2022 WHEN ATTEMPTING TO REACH CMS. OUR TECHNOLOGY TEAM IS AWARE OF THESE PROBLEMS. THANK YOU.

ATTENTION: CMS Students, Parents, Guardians: Picture day for CMS students will be September 13, 2022! Mark your calendars! Look for more information coming your way soon!

STUDENTS, GUARDIANS AND PARENTS: Interested in playing on the CMS basketball team? There will be an open gym in the Arena for anyone interested in Middle School Boys Basketball on August 18, 2022 from 6:00 p.m. to 8:00 p.m.

ATTENTION: CMS, STUDENTS, PARENTS AND GUARDIANS: CMS will be hosting an open house, Wednesday, August 3, 2022 from 5:00 p.m. to 7:00 p.m. Come tour the building, meet teachers and kick off a great 2022 - 2023 school year!

PARENTS AND GUARDIANS OF CMS STUDENTS: SOME OF YOU HAVE NOT INDICATED YOUR STUDENT'S TRANSPORTATION NEEDS IN POWER SCHOOL. PLEASE DO THIS AS SOON AS POSSIBLE. IT WILL BE A FIVE (5) DAY WAIT FOR STUDENTS THAT DO NOT HAVE THEIR TRANSPORTATION NEEDS IN PowerSchool by FRIDAY, JULY 29th.