Connersville Kids Kitchen Cupboard Located at Little Spartan Preschool ( formerly Maplewood Elementary) Thursday, September 30th 3:30 p.m.-5:30 p.m. Form a Drive Thru Line behind the school Meal Boxes will be delivered to your car

For those parents/guardians whose incoming 9th grade students will be attending summer school, please be advised that summer school hours have been changed from their originally posted times. Summer school hours at CHS will now be 8:30-12:30 due to a large elementary summer program and the need to coordinate busing. If you do not know which bus to ride, please call 827-0892, before Monday.

Once again this summer Fayette County Food Service will offer 5 breakfast and 5 lunches available on Monday's beginning June 7th to be picked up in different locations through Connersville.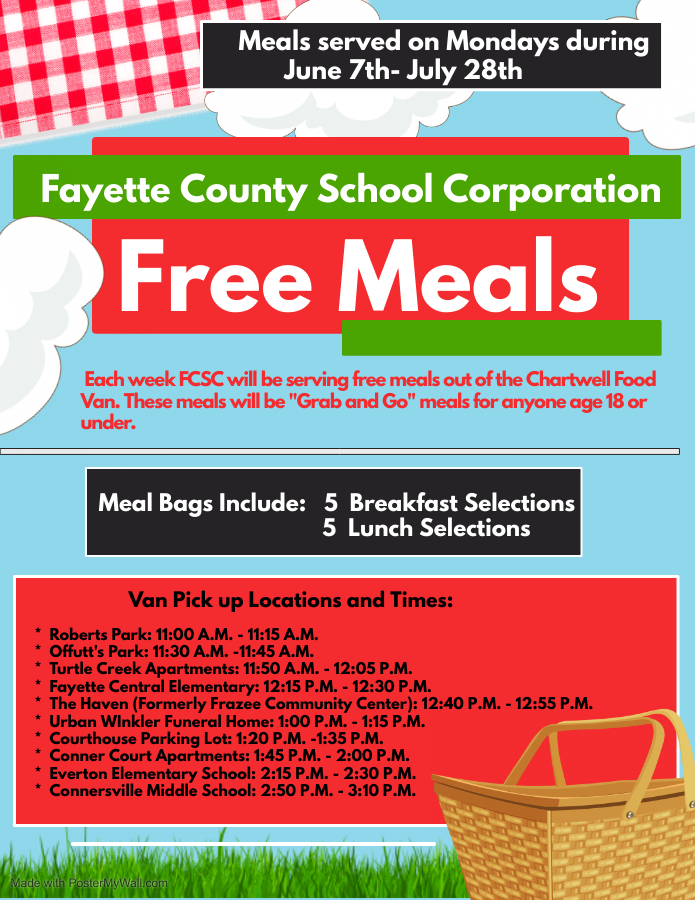 Attn CMS Parents - Please see the attached letter for information regarding your students Chromebook. Thank you!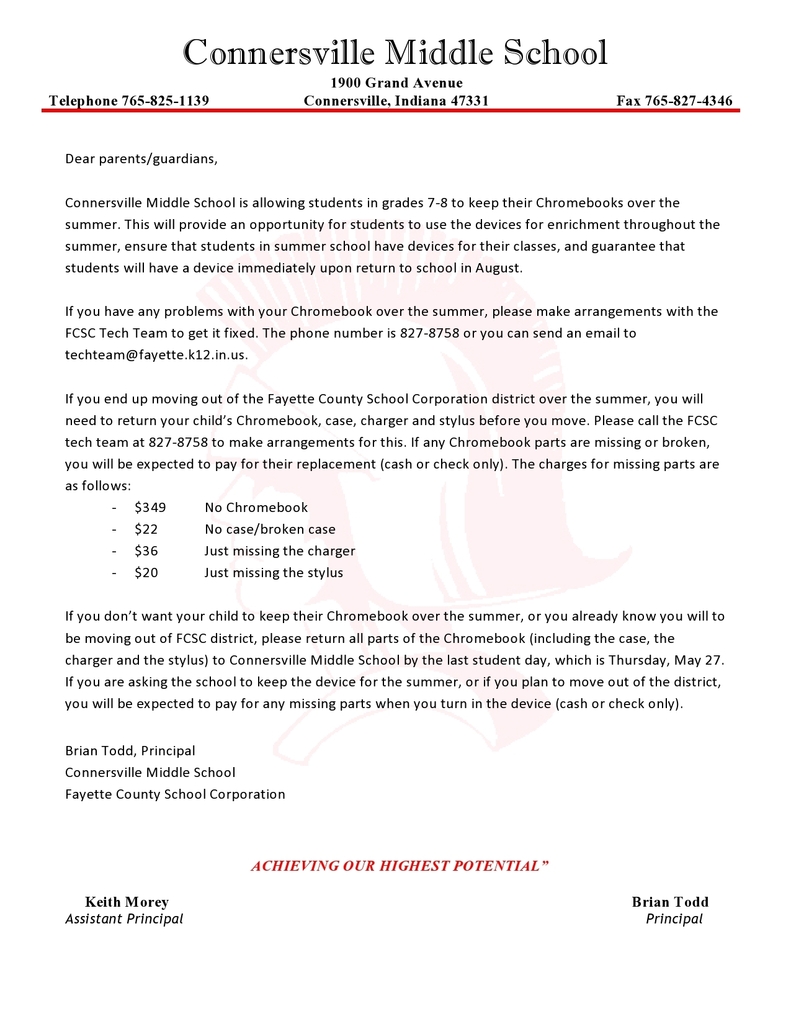 20-21 CMS Yearbooks are now ON SALE!!! -Students were given order forms during their Spartan Pride this week. ---Yearbooks are $20.00 -Orders are due by May 15th -Extra Forms will be available in the Front Office

Since Fayette County remains in the "Blue" for the 2nd week in a row, the following guidelines will be implemented for the CMS girls red basketball games to be held in the Spartan Arena on March 10th and 11th. • 100% capacity of venue (600 people) • No vouchers will be required but will limit occupancy to 600 people • Per the Governor's mandate and the IHSAA's directive, spectators will be required to wear a mask at all time. • Masks are also required for players (except when they are on the court) and coaches. • Social distancing is required and families should sit together. • NO student sections, students must sit with their families. • HOME fans will sit on the west side and VISITING fans will sit on the east side of the Arena. • Visiting cheer teams will not be permitted to attend the events at CMS. • Spectators are encouraged to exit the building immediately upon completion of the contest. • Only the home team scorer, timer, and announcer will be allowed at the scorer's table. • The concession stand will be available for purchasing pre-packaged foods and beverages. • Please do not arrive before 5:00 for a 5:30 start. Teams: • Coaches and players not involved in actual competition (seated on the bench) are required to wear a mask. • Each athlete will be required to bring their own supply of water for the event. • A locker room will be available, but teams are encouraged to come dressed in their uniforms. • No congratulatory handshakes during or after the competition. • No captains/officials meeting prior to the game.

CMS 8th graders will be doing vision screening in their Social Studies classes Tuesday, March 2, 2021. Parents not wanting their child to participate should send written notice to CMS by Monday, March 1, 2021.

The CMS Handbook Committee will meet again on Wednesday, January 27, 2021, 3:30-4:30 in the Media Center.

CMS Handbook Committee will meet this afternoon, 3:30-4:30 in the CMS Media Center. Parents and Students are welcome to join.